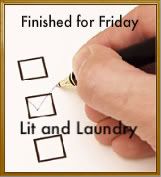 To play along with
Lit and Laundry's
Finished for Friday, I proudly bring you....the Challenge Quilt!
The Momcat and I committed to this project back in April! When we went to Paducah for the American Quilter's Society Show (our first year!), we each got 10 fat quarters of the same fabric. The challenge was to use these fat quarters, plus one additional fabric to make a lap size quilt top. It had to be completed by Christmas, when we would reveal the quilts to each other!

Here's what the Momcat came up with.

She's named it "Insanity!" I really like it, and think she should be quite proud.

And here's mine.

I used an Ohio Star pattern and did random strips of the colored fabrics for the sashing.

Here's a close up where you can see that a bit better.

I can't believe how different the two quilts look! When we did the big reveal over Christmas break, I think we were both surprised at how the same fabrics could look so very different when matched with the two different fabrics and put together different. I never even thought about using a dark fabric, and the Momcat said she didn't think about using a light one.

Overall I think we were both very happy not only with how the two quilts turned out, but also with the overall process. We look forward to repeating the challenge this year, as we're going to Paducah again in April.

So what have you finished lately?