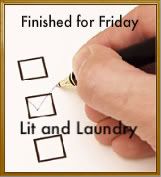 This week I'm participating in Finished for Friday hosted by threeundertwo over at her wonderful blog
Lit and Laundry
. This week...Harry Potter!
For those of you who are completely oblivious to all things Harry Potter, the movie for book six (the Half Blood Prince) is coming out next Wednesday. In preparation for this glorious day, I'm re-reading the whole series. I typically do a re-read at least once a year, and this seemed like the perfect time to do it.
So while I haven't finished the whole series yet, this week's finish is books 1-3.
and hopefully will get it finished up this weekend and move onto book five (the Order of the Phoenix).
I know others out there are also doing re-reads of at least book six (threeundertwo and Daddo, for example). Daddo had better get a move on though, as he was only on page 71 last time I checked.
Be sure to check out some of the other finishes for this week!