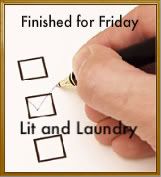 I'm joining threeundertwo over at
Lit and Laundry
again this week for Finished for Friday! Yesterday I took a day off work as a comp day (for leading the Taste of Chicago field trip last weekend). I went out for a bagel, read Harry Potter book 2, and worked on this dress:
I'd gotten the pattern back in May at JoAnn Fabric when it was on sale for $1. I know that princess style seams look best on me, so I thought I'd give it a whirl. I've made skirts before-successfully-and was hoping this would be just as easy. The N-boy picked out the fabric himself!
Here are the pattern pieces all layed out. After I took this picture I realized the fabric was folded the wrong way, so I had to take everything off, re-fold and re-pin.
I'm counting this as a finish because it is put together, even though it still needs some tweaking to make it fit correctly.
The Momcat has already promised to help me with this. The problem is that the arm holes are a little tight, the bust line needs a little adjustment, and it's a bit too big from the waist down. In the picture below You an kind of see the problems with the sleeves.
BUT for my first attempt at sewing clothing in many years, I think it turned out ok. I'm going to try a skirt again next, to see if I can't do better with something a wee bit simpler.
The N-boy and I are heading up to his parent's for the holiday. They took a new call (ELCA) last November, and this will be the first time for me to visit them there. It will also be my first time to see them since the N-boy got sick this Spring, so I'm a bit nervous about that. His illness is definitely going to be that big elephant in the room that noone wants to talk about, but that needs to be discussed. Oh well, I'm sure it will work out ok, and it will be nice to see family.
Hope everyone out there has a wonderful holiday!