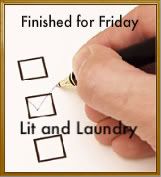 Once again I join Threeundertwo at her wonderful blog
Lit and Laundry
for her Finished for Friday post.
This week I've finished the Christmas Candle Mat!
This will be a Christmas present this year, and I can't believe I've finished it so early.
It's a log cabin pattern with simple one inch cross hatching for the quilting.
In addition to being part of Finished for Friday, this is also a finish for
Kim's
Get it Done in August challenge! Now I just have three more candle mats to go and that will be one project checked off my list!
Also, one of my other favorite bloggers, Gran, is having a give away over on her blog
Knot-y Embroidery Lady
. Visit her to see the cute fabrics she's giving away, and see some of her finished projects.
Next week week will be absolutely crazy at work as we move full swing into new student orientation.
This was something I came up with earlier this week, for a resource fair our department was a part of.
I'm part of the training for a brand new program, which is great, but it also means I will literally be living at work for three days. I'm hoping to get some time to relax and get some projects done this weekend.