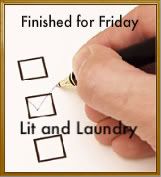 This week I'm joining Threeundertwo over at
Lit and Laundry
again for her
Finished for Friday
. Unfortunately, my finishes this week are not nearly as spectacular as her TWO finishes, but I think they're good enough for me this week.
I finished writing three letters this week: a postcard to BabyBrother from the Harry Potter Exhibit (so keep a lookout for it, Babybrother), a letter to my Grandpa and a nice note to the Momcat.
I try to write to grandpa every week, but sometimes I miss a week or two. The Momcat says he really enjoys hearing from me, and it only takes a few minutes. He sometimes writes back, too, which is nice.
The other big news for today is that I won something on a giveaway! I'd entered Angela's giveaway on her blog
MyThreeSons
for a package of needles that were giving her trouble...
and I won!
She's making the cutest orange and pink star blocks that I just love. Be sure to check out the pictures of her studio, too. I think her idea of using a china cabinet for fabric storage is great!
Thanks so much, Angela!