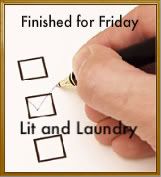 I'm so happy today is Friday! This week just seemed to drag by to me. I'm looking forward to getting lots of crafting done this weekend, and maybe going with the N-boy to find a new-to-me bike that actually fits me!
I'm participating in "Finished for Friday" hosted by
Lit and Laundry
again this week. My finish is just another dishcloth. I really enjoy making them because they're small and easy to carry around with me. And they don't require a whole lot of thought! I think next I'll use the same pattern but cast on more to make it wider and try and make a bigger dishtowel with a larger skein of yarn. I just love using the Sugar n' Cream variegated cottons!
Other projects on the docket for this weekend is continued work on the secret challenge project that the Momcat and I are both doing. I keep hearing rumors that she's been staying up until 1:00 a.m. to work on hers and is pulling ahead! Well we can't have that, so I'd better get a move on it while she's off working at camp this next week. I think I'll also pull out my new John Flynn Quilting Frame and see if I can get the N-boy to help me get it set up to practice on. I'm very excited about being able/inspired/willing to finish my projects more quickly and prettily, and want to get some practice in so I can do just that. I also have a nifty dress pattern that I'd like to make that I picked up at JoAnn Fabrics back during their memorial day sale. The N-boy picked out the fabric (brown with white polka dogs), so I think he'd like to see me make it, too.
I've been feeling pretty tired this week. I'm hoping its just from the return trip from California and the jet lag. I've also been feeling like there just aren't enough hours in the day. I'm sure this is something that we ALL feel from time to time. I think in part its because I look around at all of the wonderful projects people are working on and posting out here in blogland. I feel so inspired everytime I look at these, and want to try so many new things myself. But I know I have enough UFOs and WIPs to keep me going for a while without needingn to add any brand new projects. But maybe I should try and devote a little time each week trying something new or different that inspired me. This might help keep my creativity fresh and prevent me from slipping back into the quilting/sewing/knitting/crafting duldroms that I was experiencing earlier this year. With the N-boy's health continuing to stabilize/improve, this may be a good time for me to try some new things, too. Thoughts?