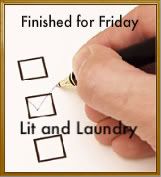 This week I'm joining threeundertwo at
Lit and Laundry
for "Finished for Friday" again. Celebrating the fact that I did indeed manage to get something finished for this week! I feel like I have so many (too many) projects going on right now, so it felt super good to finish something.
This week's finish is the scarf I made for the Momcat for Christmas.
Last Christmas.
I'd finished up the knitting before, but hadn't gotten around to sewing the ends in. I'd actually put the whole thing, needles and all, into a gift bag and presented it under the tree last year. Last night, while watching This Old House on PBS I sewed in the yarn ends for each little stripey section. I find it particularly satisfying that I finished a Christmas present (even a belated one) on Rudy Day, celebrated in the 25th of each month and led by CEO at
Organized Christmas
. Now if I can just get ahead on this coming Christmas...
Merry Christmas Momcat!